Wedding season is in full swing, and even though it's been a cold spring, we've had plenty of heartwarming moments here at Vista Events. A recent wedding stands out in particular, because of its subtle consistency of notable charm and sweet surprises.
Recently, I married a couple who have been together long enough to have an established family of four. What impressed me from the start about this couple is that from the beginning of their planning, they included the children. They even brought them along to their initial consultation. It was a treat getting to know them as a family, and we all valued the children's input throughout. The kids seemed to have fun, too!
At the rehearsal, the groom's mother was especially sweet to me. She made me feel welcome, appreciated, heard and approved of. She spoke to me several times, and looked at me with admiration as I directed everyone. At an event where the wedding party is excited and just ready to party (and no one really wants to listen to instructions), the groom's mother's attentiveness gave me confidence that someone understood there was work to be done. She even made me laugh and also made me smile several times. A delightful woman I was grateful to meet.
At the ceremony, the couple's young son would serve as ring bearer, and the bride's pre-teen daughter would serve as junior bridesmaid. They would escort each other, hand in hand…which in the end rendered a most precious sibling photograph. During the ceremony, each of the children would stand beside one of the two parents—the daughter beside the mother, the son beside the father. Their family unity was palpable even as the vows were spoken. It was a gift to behold, and it seemed in no way to detract from the focus of the love between the bride and the groom.
Everyone was just very excited and very happy. Ready as ready could be.
The twelve year old daughter's enthusiasm was especially beautiful. Every time I was near her, it felt like Christmas. You could feel her joyful heart. She was respectful and helpful. When I delivered the couple's love story, which I'd written from my own perspective, I was suddenly surprised to realize it made the young girl cry. This wasn't my intention, but so bright and tenderhearted is she that she understood in full measure the depth and veracity of my words. It was a beautiful moment.
Likewise, the bride teared up when I gave memorial tributes to her grandparents; a moment I hadn't anticipated but should have. It reminded me of my own wedding when I cried in the same way for the same reason. It made me feel connected to the bride in a knowing grief.
This bride impressed me in so many ways —as a mother, as a daughter— and particularly in her vision of the groom, in the positive light in which she appreciated him. Their relationship has proven solid. Consequently, this wedding was as much a celebration of the joy that was behind them as of how much joy would be ahead. In one way, the nuptials were just a formality; yet in another, they were the momentous occasion they dreamed of and deserved. The groom appreciated his bride's prompting toward this celebration, and he said so. In my story I spoke of how in-synch they are as a couple and how well they communicate–which for many couples is one of the greatest struggles.
Another beautiful moment came when the mother of the bride appeared ahead of schedule after missing the rehearsal. I was worried she wouldn't be in attendance, but as I began to line up the bridal party for the processional the mother asked, "Where do you want me?" I greeted her with joy and introduced myself. She went to her designated spot and entered beautifully on cue. She looked lovely and seemed happy. It was as perfect as if she had rehearsed with us. She knew what she was doing throughout, and I have no qualms with that. It truly made my heart sing.
The bride's parents, it turned out, were accompanying their third daughter down the aisle. It made some sense to me, then, when the father said as we chatted, "I told my daughter she should have gone to a justice of the peace." I know he knew I was an ordained minister, the booked wedding officiant of the couples' choosing, but I wasn't exactly positive why he felt he preferred a justice of the peace over me. I tried to console him on cost, but it may be that he just didn't enjoy the magnitude of a formal wedding. I only realized much later that he might have been trying to express apprehension due to his traditional values, which are often broken down between the generations. Regardless, the pressure was on to deliver a ceremony that he would value. I hoped for that as much as anything else, but I wasn't sure how he would see it.
When we practiced the Giving of the Bride at the rehearsal, the father also explained that he was not given to public displays of affection. "We aren't a touchy-feely family," he said. With respect for his comfort, I tried to persuade him by explaining that this moment, though symbolic, was an opportunity for him to give his deserving daughter a proper sendoff–to express his love for her, as well as provide an opportunity for her to publicly return the expression of her gratitude to him. It was a little awkward and again I wasn't sure he agreed with me.
I understand one's feelings of desired privacy and possible shyness–perhaps even a shade of unnecessary regret…but I really wanted him to seize the opportunity. I was afraid that if he didn't find it within himself to show his genuine support publicly, he might have greater feelings of regret. Still, he had already given away two other daughters—and I did not know what was done in either of those instances. I had to trust my instincts and hope for the best.
On the day of the wedding, the bride and I would be surprised and equally touched when her father walked her down the aisle stately and with intention. One of the most perfect father-bride teams I've ever seen. They were stunning. Then, before parting, he decidedly leaned in to his baby girl with a warm and loving smile, hugged her respectfully, and said something that was inaudible to me. It looked like it was a very good something, though. My heart began singing again. This time it felt I had a privileged place in the making of that magic.
Many things one worries about on a wedding day have a tendency to work out just beautifully.
So Mom came through, and Dad came through…
And they weren't the only ones.
Amid some wee confusion over format at the venue, we practiced the processional twice then gave up. With so many attendants, I wasn't sure everyone would cooperate or execute the desired pacing. But as the processional began and I stood at the altar watching the regal entrances, I felt pride so great that I literally leaned in and whispered to the groom, "I'm so proud of how perfect everyone looks!"
Once joined together at the altar, the bride and the groom appeared somewhat tense–not unusual on a wedding day–but they didn't seem the couple I knew them to be. I was a little concerned, but as I shared my story about them, an invisible cloud seemed to lift. This then led to another endearing moment, when the couples' son brought forth the rings. The excitement of the moment had him just momentarily confused over which ring was the bride's; it went on just long enough to give us a start and then it was fixed. It was spontaneously cute, yet no match to my own shock when he delivered the rings and I saw for the first time the disparity in size between the circumference of the groom's ring in comparison to the bride's. It was an unanticipated contrast that made for a memorable moment, which likely escaped everyone's eyes but mine. It, too, was endearing and still brings a smile whenever I think of it.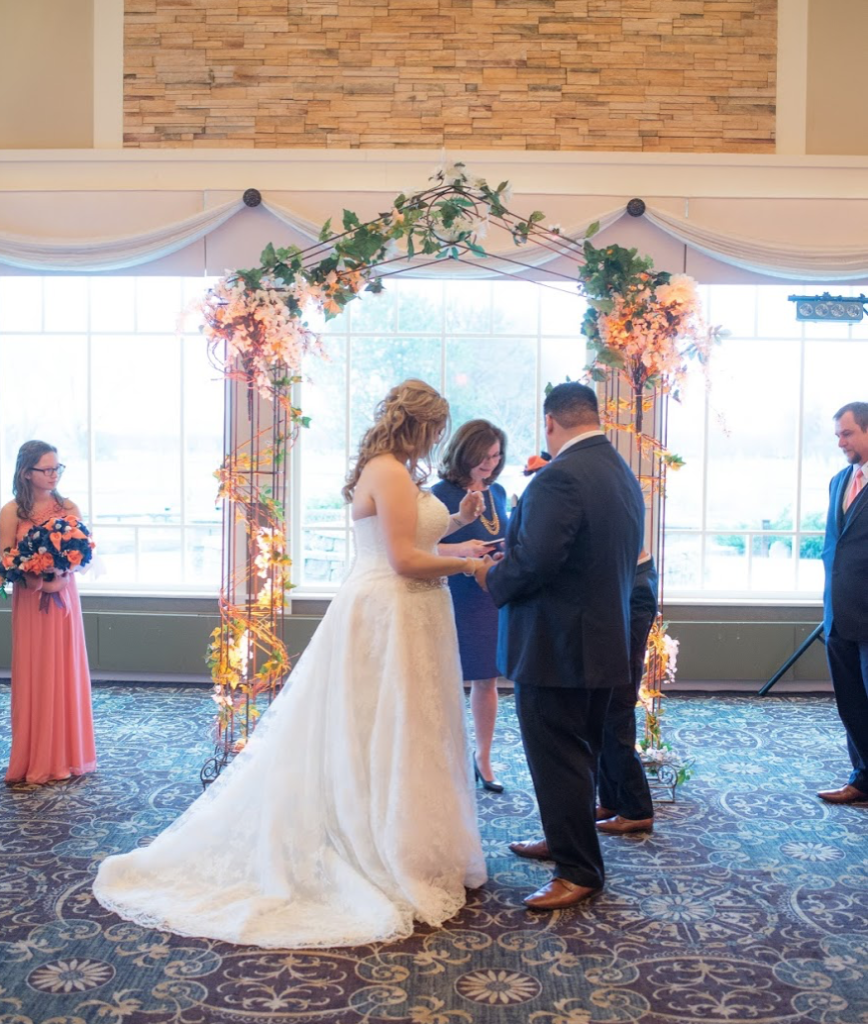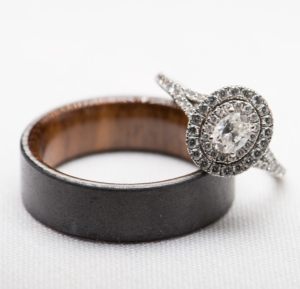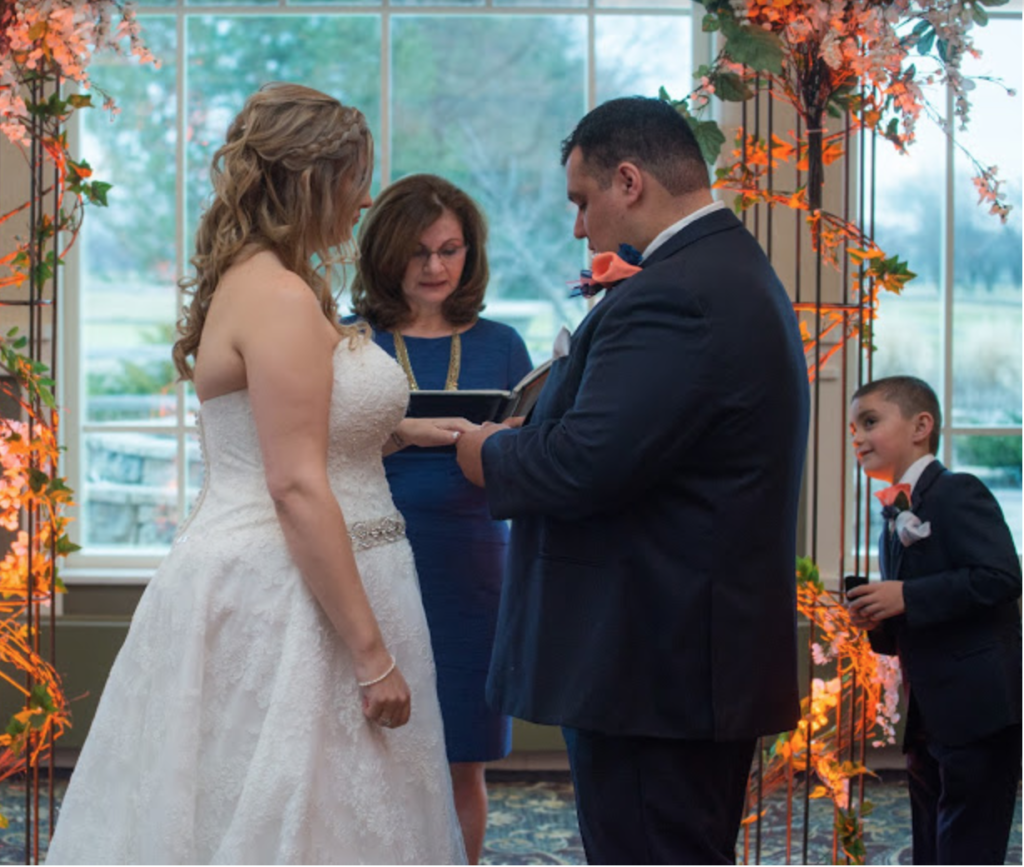 Undoubtedly, my favorite part of the ceremony was seeing the joy in the couple during the recessional. Whatever had concerned them was now lifted, and they were back to the comfortable lovers I knew them to be. The elation they expressed sealed the moment with perfection.
After the ceremony, perhaps best of all, the bride was generous enough to share her professional photographs with me (which you see in this post, the work of her photographer Mark Andrew). While admiring the hundreds of photos, I smiled throughout; there were so many good ones! I found myself literally enjoying every one as if I was entirely connected to the whole family and even all the friends.
As an officiant, it feels that way. It is a wonderful feeling of connection. By the time you marry the couple, you feel you know them so well that you actually do care intimately about them. You have prayed for and meditated over and talked with them about intimate details; you feel an integral part of their effort, their promise and their happiness.
It's a wonderful gift to be at the center of someone's dream. Sometimes it feels like I have the best part of the whole ceremony…
Even though, that slightly apprehensive mom and dad, that eager bride and groom, those deceased grandparents and beloved Aunt Rosa, those slightly raucous, highly energetic attendants, and even those custom touches that make the day one's own, along with that mindful photographer…and especially that heart-winning ring bearer and junior bridesmaid…are all pretty special, too.